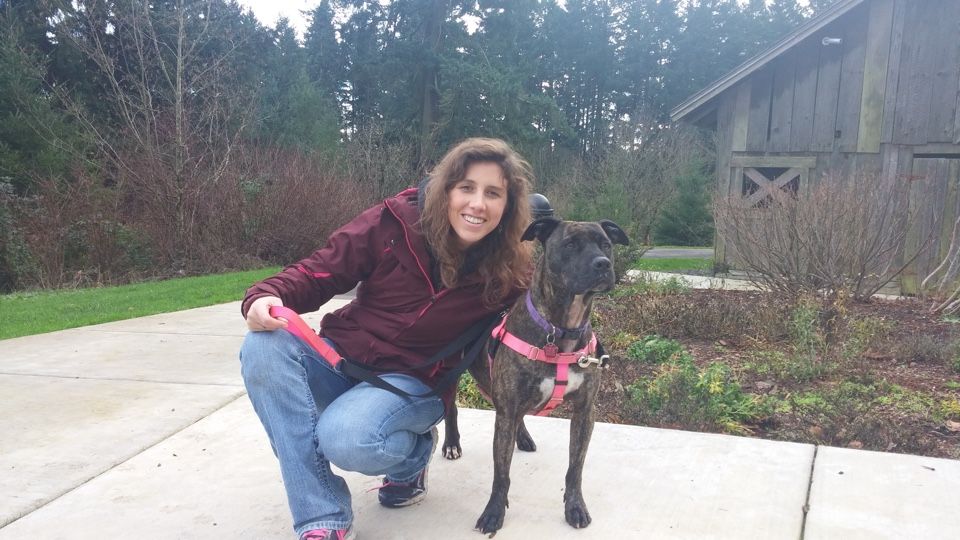 Hello! I am Brittany Fulton, owner of Dances with Dogs. Thanks for taking the time to learn more about my business and me.  My life experiences with animals have contributed to the highly motivated dog trainer that I am today.  I have a degree from the University of Oregon in psychology with an emphasis on animal behavior.  I also have Certification in Training and Counseling from the Academy for Dog Trainers.  Starting in 2011, I learned from and worked beside a successful dog trainer, Dina Pavlis of Surf City Dog Training, in Florence, OR. I have interned with various domestic and wildlife organizations in Utah (Best Friends) and throughout Oregon.  Since moving to the D.C. area, I completed an internship with the Smithsonian National Zoo, working on the American Trail.  There, we utilized positive reinforcement training, the same approach I use with canines.  You may have met me at the Humane Rescue Alliance in Washington, D.C., where I taught behavior modification classes for several years.  Outside of work, I have been active with local humane shelters, both fostering and volunteering.
I love my work with dogs. I believe very strongly in dog training for a variety of reasons. Primary among these, I know that training improves the relationship between dog parent and dog. In just one session, the family pet has learned that paying close attention to their parent is highly rewarding. So, suddenly, a dog is looking more intently for communication from their parent.  Developing this relationship of communication fosters greater harmony in the home. Both human and dog can show one another preferences or needs in a polite and acceptable manner.  For example, instead of jumping up on their parent to greet them, a dog would learn that sitting calmly is the best way to get the attention they desire.

Academy for Dog Trainers- Certified in Training and Counseling (CTC); Graduate in 2014
Aggression in Dogs Master Course- Graduate
Animal Positive Coalition- Affiliate, Chair of Legislative Committee
Pet Professional Guild- Canine Training Professional Member
CATCH Canine Trainers Academy- Mentor to students
Testimonials
Marissa, Scot, & Roscoe:
We just wanted you to know that we have had SO many compliments on how great Roscoe has been behaving! We also brought our baby girl home, and he has done a great job with her. You helped make that a much less stressful experience for all, and we are so grateful!
Rhonda, Canine Miracle Rescue Vice President:
Your friendly, personable training style, knowledge of animal behavior and communication skills are invaluable to the dogs and volunteers at CMR.
Candice, Canine Miracle Rescue:
When a dog is showing unwanted behaviors, Brittany is wonderfully sensitive to a dog's underlying needs, and she knows just how to construct gentle interventions for nudging those behaviors into more acceptable expressions.
Natalie and Kobe:
Brittany is very patient, knowledgeable, and very good at reassuring you that even in the worst times it will get better. I would highly recommend her over any trainer.
Ellen and Penelope:
THANKS for being such a force for good - Penelope is such a sweet girl and I love that she is so responsive to what we are being shown.
Shawn and Kitt:
Kitt is so much better and so am I because we are learning from you.  You have a very good mind for this work and your suggestions have calmed me down as well.   Just seeing you working with him successfully gives me hope!!
Kirstyn and Elly:
Brittany came highly recommended to me by another trainer, and I now know why;  it is clear that she really knows her stuff, and she is a wonderful communicator... With both her canine and her human clients!
Christina, Ben and Pliny:
Brittany was a terrific instructor who explained things well, had good ideas, and gave us a lot of attention.
Jesse and River: Brittany did a great job at learning each dog's individual needs and designing experiences/environments that met them.
Janet and Rennie: [Brittany] explained training techniques clearly and made the experience fun.
Colette and Buster:
Brittany is very patient, answers all questions. Buster has made such progress from barking to tolerating other dogs.
Mary Kay and Arrow:
Knowledgeable about reactive dogs!
Beryl and Molly:
We've gone from worrying that we'll meet another dog when out for a walk to hoping that we meet another dog so we can practice the skills we learned.
Genny and Cosmo:
Brittany was the trainer for the Reactive Dog I group class I took through the Humane Rescue Alliance, and I would highly recommend her to those working through reactive dog issues. She is very patient with both her human and dog clients, and provided great tips... Our dog Cosmo (and in turn us as handlers) made leaps and bounds of progress over the 6-week class; and Cosmo LOVED Brittany (and her treats).