The Dances with Dogs Experience
           (and some beautiful faces!)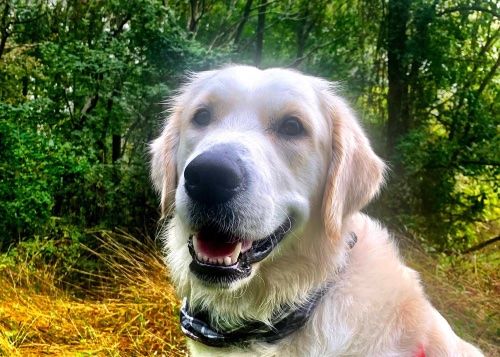 Katy, Tom, and Archie:
"I've read you should always watch your dog's tail when he's with his trainer to make sure the trainer is kind.  When Archie sees Brittany, his entire body wiggles with joy!  Brittany is an incredibly kind and effective trainer who helps you not only train a well-behaved dog, but also shows you how to build a strong and happy relationship while doing it.  She does a wonderful job customizing the training to align with your goals and priorities, and her approaches are grounded in science.  Brittany doesn't resort to intimidation; instead, she focuses on building trust, being consistent, and communicating effectively.  

We started working with Brittany when Archie was only three months old and now he is now almost a year.  He is well-trained, but with a healthy dose of puppy exuberance. This is exactly the outcome we wanted.  We plan to get another puppy in two years and will definitely work with Brittany again!"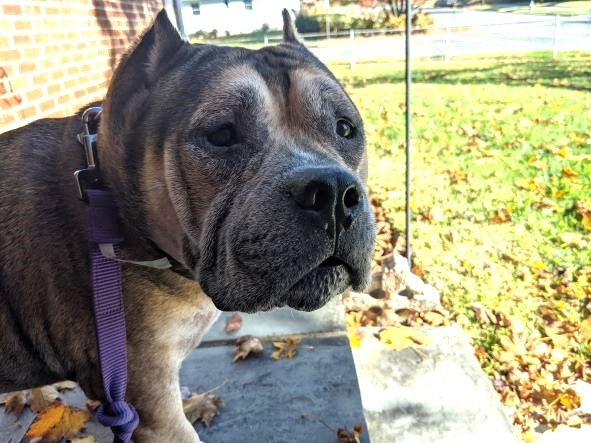 Jenn and Nori:
"Brittany had me at the name- Dances with Dogs. Her extensive background and patience with animals and humans is amazing. I adopted an older dog with some health and trust issues during the pandemic. She has been with us every step of the way. My dog and I have grown in our relationship because we have structure. Brittany obviously loves her career. She is flexible with location of training also. For example she has worked with us in our yard, on walks and in the local parks to give real time advice in real time situations."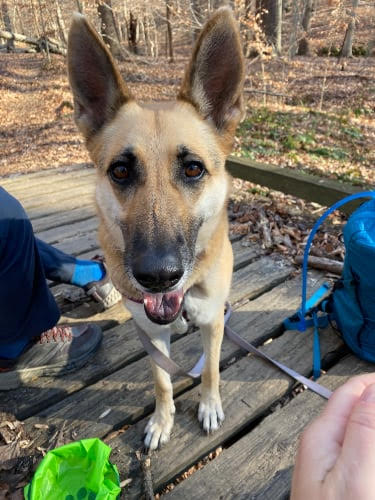 Bill and Cleo:
"A friend recommended Brittany when she found out that I was adopting Cleo, the two-year old German Shepherd rescue.  Cleo is a wonderful dog who - like many rescues - can be highly reactive towards other dogs, and in certain other situations.  We started out training via video calls, and though I wasn't sure how that would work, Brittany was immediately helpful in assessing Cleo's behavior and in recommending positive strategies for working with her.  We learned about the reasons for reactivity, and positive alternatives to present to a dog.  It's been slow but very steady and significant progress, and Cleo is now much calmer on walks, and often ignores other dogs she sees instead of barking.

Then, purely by coincidence, Brittany showed up as the instructor for the HRA basic manners course (also online).  She not only continued to help me and Cleo work through the fundamentals of dog training, but was also able to guide a half-dozen other students at the same time.  German Shepherds are working dogs, and Brittany suggested games, activities, and toys that would keep her active and stimulated.  Two years later I'm still using all of these strategies.

For the last year or so, Brittany has stopped by occasionally for training walks with Cleo.  Cleo is generally reluctant to engage with new people, but Brittany's enthusiastic and patient style won her over and she is now the FAVORITE visitor.  Brittany is able to get her full attention, and use the walks to work on challenging situations, focus, and loose leash walking. Someday we might even get Cleo to go upstairs (!).

I enthusiastically recommend Brittany to anyone wanting thoughtful, positive, and effective help with training their dog.  And since training is at least as much for people, I also recommend her as a great person to work with, a good listener, and a very thoughtful communicator."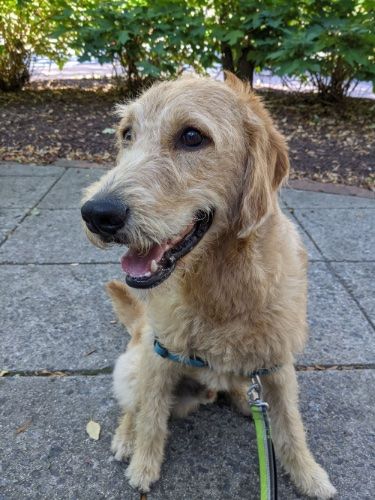 Lira, Tim, Henry, and Dewey:
"Brittany began helping me train my pandemic puppy when he was two months old and she immediately made a connection with him. She has an amazing ability to gain his trust with her patient, confident, and kind manner. She has come up with creative and positive solutions to some of his challenging behaviors. She is great at communicating and teaching her methods to me and my family."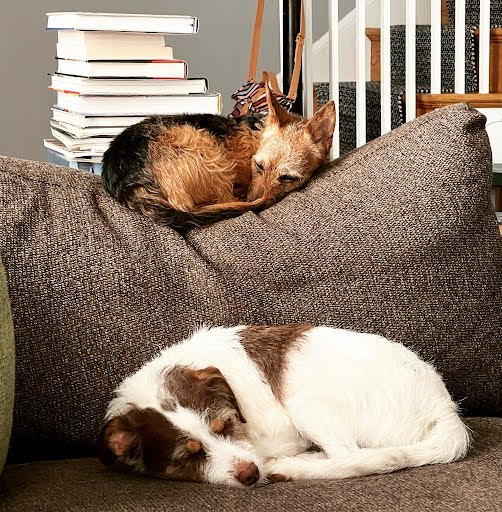 Amy, James, Indie, and Reilly:
"We cannot speak highly enough about Brittany and her work with our pup, Indie. Indie was extremely fearful as she was from a hoarding case.  She was not responding to other typical forms of training, so we reached out to Dances with Dogs. Brittany quickly built a connection with Indie and we have seen incredible progress with our pup's understanding of basic commands, and with tackling behavioral issues. Brittany is incredibly professional, warm, and has always been there for us when we have questions. She also writes recap emails for us so we can remember what we should be doing when she's not with our pup. Really couldn't hope for a better trainer for our "pandemic pup". Thank you, Brittany!
Update: Two years in, and our pup Indie continues to improve. We recently adopted a new puppy brother for her, Reilly, and immediately reached out to Brittany to help us with acclimating the dogs to each other and training Reilly. Brittany has proven yet again to be an invaluable resource, giving us specific actions to take to help the dogs get along. Even with just one session so far, by using her techniques we are already seeing major improvements. Perhaps best of all, my partner and I feel prepared to navigate the new addition to our home with minimal stress. Dances with Dogs is the best!!!"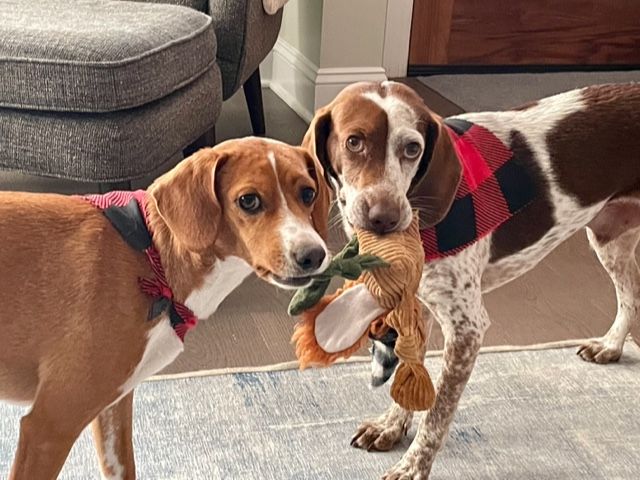 Suzie, Patrick, Elvis, and Wally:
"Brittany is a terrific trainer!  She has been great with all of my dogs, figuring out the best way to address whatever we need help with and working with us and the dog in a collaborative way.  We've worked with her many times over the years and she's always been responsive, informative and successful.  My dog Elvis in particular loves seeing her even if its been months since he last interacted.  And with Wally she worked to gain his trust and figured out right away what the trigger for some of his weird behavior and suggested a protocol to overcome it.  It worked!  Thanks for your help Brittany."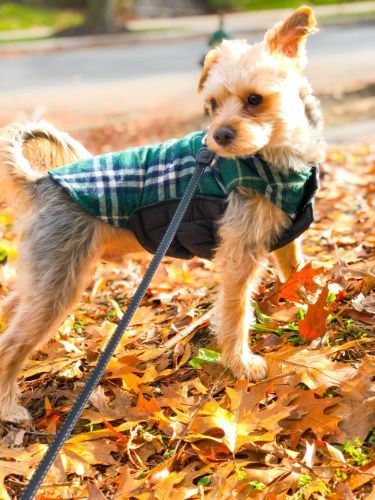 Ryan, Kelly, and Wilfy:
"We are so happy we found Brittany! Wilfy is a great and loving dog but is extremely reactive to dogs on leashes. In just a few weeks we have definitely noticed Wilfy is beginning to show some improvement on his walks - he is beginning to see dogs and ask for treats first...sometimes. We are excited to continue working with Brittany and see how much Wilfy can improve."